Tips for implementing and using auto repair shop management software effectively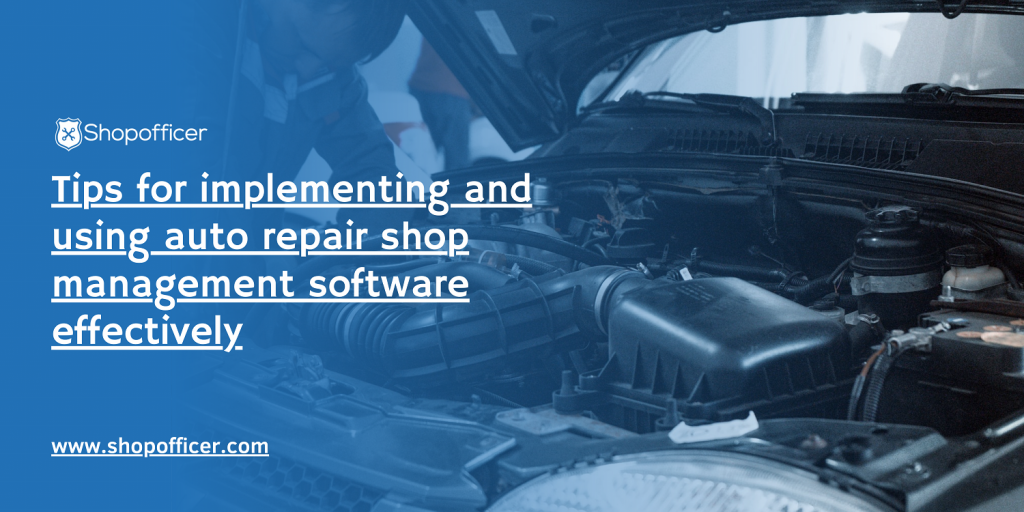 Your operations can be streamlined and made more efficient by putting auto repair shop management software into use. To get the most out of your investment, it's crucial to approach the process thoughtfully.
Here are some pointers for successfully implementing and utilizing management software for auto repair shops:
Determine your unique needs and objectives.
It's important to have a clear understanding of your business needs and goals before you begin looking for software. Consider the particular difficulties you encounter in your auto repair business and the goals you have for implementing software. This will enable you to decide which capabilities and features are most crucial to you.
Investigate your options.
It's important to do your research and weigh your options because there are numerous varieties of auto repair shop management software available. Look for software that fits your needs for features, has a good reputation in the sector, and is affordable. You might also want to think about how easy it will be for your staff to use and the learning curve associated with various pieces of software.
Your staff may experience a significant change when implementing new software, so it's critical to provide adequate training to ensure a smooth transition. To acquaint your staff with the software and its features, think about hosting workshops or training sessions. As your staff uses the software going forward, you might want to think about offering resources and ongoing support.
Establish procedures and processes
It's crucial to establish clear processes and procedures for your software's use in your company if you want to get the most out of it. This can make sure that everyone is using the software effectively and that everyone is on the same page.
Follow and evaluate your development
Once your software has been put into use, make sure to regularly check in on and track your progress. Search for areas where the software is improving your operations and note any instances where it may be lacking. This will give you the opportunity to adjust as necessary and guarantee that you are getting the most return on your investment.
Keep up with the most recent features and capabilities because auto repair shop management software is constantly changing. This can help ensure that you are managing your business with the most effective and efficient tools available.
In conclusion, effective implementation and use of auto repair shop management software necessitate some thought and preparation. However, the advantages of streamlining your business processes and boosting productivity may make the expense worthwhile. You can make sure you're getting the most out of your software and enhancing the general efficiency of your company by heeding these recommendations.